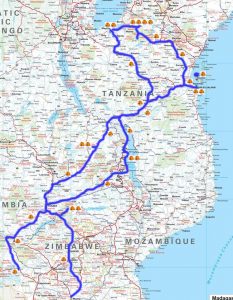 31 day once in a lifetime adventure including:
Victoria Falls
Lake Victoria
Mount Kilimajaro
Zanzibar
Ngorogoro Crater
Lake Malawi
Mana Pools
Lusaka
Dar Es Salaam
and search for the wildebeest migration in the Grumeti area
Are you ready for this ADVENTURE OF A LIFETIME?
No experience required, as this is guided tour
A normal 4×4 with low range
No caravans at best an off road trailer
If your bucket list includes Serengeti, this tour will tick that box and offer you much more than Serengeti. It is such a great event that I changed the name to, East Africa Safari, just do the tour justice.
It really is a great east African experience. This will be a month of your life that you will never forget. You will see and experience something unique. We tour up through the heart of east Africa.
Some of the places you would recognise include: Victoria falls, Lake Victoria, mount Kilimanjaro, Zanzibar island, Ngorogoro crater, Lake Malawi, Mana pools, Lusaka, Dar es Salaam.
At the heart of the tour, we will search for the Wildebeest migration in the Grumeti area. At this point the migration counts at about 2.5 million wildebeest. It is an experience of a lifetime.
We will visit the craft shops of the Masai. The spice tour of the historical Zanzibar Island.
This is a tour that every person must do at some stage. It is absolutely spectacular, and worth every cent.
Want to know more?
If you wish to discuss your next trip to any of the above destinations, please email me with your questions and we will keep in touch.
Stay in touch
Subscribe to the mailing list and get latest news & adventures delivered straight to your mailbox.